The RBL 2S-14 presents a 2.4GHz CPE product with superior performance and flexibility. It is an ideal WISP equipment already well recognized by the industry. This product is equipped with an extreme output power (up to 31 dBm) 802.11n radio that was created with a unique hardware design and coupled with a reliable, feature-rich operating system. This small device also has a robust, IP-65 compliant enclosure which is combined with a medium gain corner reflector, and emits EIRP up to 10 W. The RBL 2S-14 is generally designed for CPE applications but can also act as an access point thus allowing point to point and point to multipoint network applications.
The included, robust software engine allows the RBL 2S-14 to work as bridge or as a router, provides a user-friendly Adobe Flex – based GUI with instant changes, includes useful installation tools (Site survey, Antenna alignment, Delayed reboot, Spectrum analyzer), and also is compatible with Wireless Network Management System for one of the most advanced management tools on the market.
Smart antenna design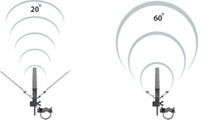 RB-LINK RBL 2S-14 has a detachable antenna design which allows mechanically changing antenna directivity. With the flaps it is 20 degree directional antenna and without the flaps it is a 60 degree sector making this product ideal to use as a small scale base-station or as a small to medium range client device operating on a 2.4 GHz frequency band.
Usage recommendation
PTP mode (two RBL 2S-14 devices): 20 km/ 12.42 mi
PTMP mode (RBL 2S-14 as a client device): 10 km/ 6.21 mi
PTMP full capacity mode (RBL 2S-14 as a client device): 4 km/ 2.49 mi
Maximum throughput: 90 Mbps